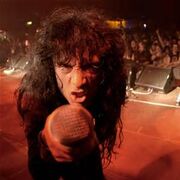 Joey Belladonna was the former singer for the band Anthrax. Recently, he joined the band again for the "The Big Four" shows in Summer 2010. He will be singing on the new album, Worship Music.
Early Career
Edit
Joey joined the band in 1985 after singer Neil Turbin had left the band a few months prior. Joey's first album with the band was Spreading The Disease.
Discography
Edit
With Anthrax
Edit

Ad blocker interference detected!
Wikia is a free-to-use site that makes money from advertising. We have a modified experience for viewers using ad blockers

Wikia is not accessible if you've made further modifications. Remove the custom ad blocker rule(s) and the page will load as expected.